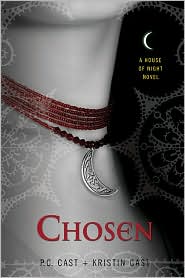 Chosen
P.C. Cast and Kristin Cast
Series or Stand Alone:
House of Night series, book three
Synopsis: [from back cover]
Bloodlust and dark forces are at work at the House of Night, and fledgling vampyre Zoey Redbird's adventures at the school take a mysterious turn. Those who appear to be friends are turning out to be enemies. And, oddly enough, sworn enemies are also turning into friends. So begins the gripping third installment of this "highly addictive series" (Romantic Times BOOKreviews), in which Zoey's mettle will be tested like never before. Her best friend, Stevie Rae, is undead and struggling to maintain a grip on her humanity. Zoey doesn't have a clue how to help her, but she does know that anything she and Stevie Rae discover must be kept secret from everyone else at the House of Night, where trust has become a rare commodity. Speaking of rare, Zoey finds herself in the very rare position of having
three
boyfriends, a situation with the potential to spell social disaster. Then vampyres start turning up dead.
Really
dead. But as Zoey and her friends find out, things are not always what they seem...
Review:
Zoey Redbird is having serious issues... still! She's now seeing all three guys: Heath, Erik, and Loren. And now she could be losing her best friend Stevie Rae... again. Stevie Rae is already undead after her body rejected the Change at the First Full Moon Ritual, and now she could be losing what little remaining humanity she has left to something dark. To make matters worse, Zoey is forced to lie to her friends in order to keep her secrets safe from Neferet. Someone that has totally done a 180 in the story and is no longerthe kind, loving woman she portrayed herself to be. Something is definitely up Neferet's sleeve...
First off, I have to say I really feel for Zoey and her boy problems. Even though she repeatedly refers to her ho-ish behavior as wrong and yet she still continues to date all three guys. She knows what she's doing is really wrong. She does go to Heath and tries to break up with him (again) and fails (again). But after a really hot scene with him I can't necessarily say I blame her. I swear I've personally been in her position and picked the wrong guy. *sigh* So I can't tell you who she ended up picking... but I can say that sadly her choice was wrong.
Another thing I'd like to bring up is Aphrodite and her growing relationship with Zoey. I could definitely see them becoming allies since
Betrayed
. But their relationship really makes me laugh. They try so hard not to be friends or care about each other. I mean Aphrodite is still a major bitch sometimes and even I want to smack her. She can't seem to get over herself and just be nice. Especially in the scenes with Stevie Rae when she just has to keep mentioning how bad she looks and how awful she smells.
Hello! She's undead dead!!
Of course she's going to smell. But there are times where her mask begins to crack and she shows how scared she truly is, which definitely shows her human side.
So I'm leaving a lot out because I don't want to spoil the story. But
a lot
of things take place at the House of Night. This is really a must read for any HOS fan. You'll really want to find out what happens in the end.